Fiddlers Green Amphitheatre | Greenwood Village, Colorado
Weezer & Panic! At The Disco comes to Fiddlers Green Amphitheatre on Sunday 24th July 2016
This year's biggest rock pairing WEEZER and PANIC! AT THE DISCO is causing a commotion. Indeed, fans are on a massive chase to get tickets. Both legendary rock acts are set to ignite the stage with their with their electro, alt power pop, emo sound. What are you waiting for? Get those tickets in a flash!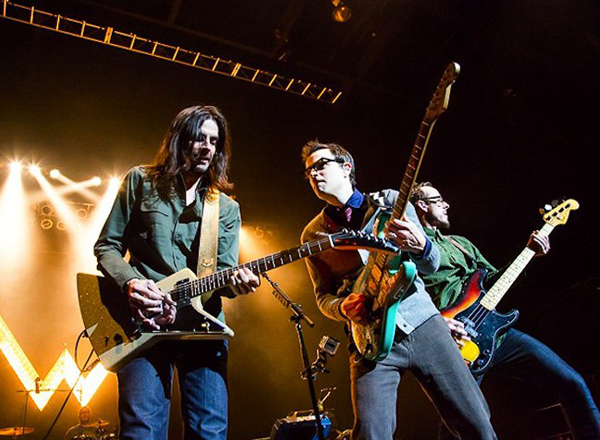 Weezer was formed in 1992. This LA-based band is currently composed of Rivers Cuomo (lead vocals, lead and rhythm guitar), Patrick Wilson (drums), Brian Bell (rhythm and lead guitar, backing vocals, keyboards), and Scott Shriner (bass guitar, backing vocals, keyboards). They broke out with the hits "Undone – The Sweater Song", "Say It Ain't So", and "Buddy Holly". They took a two-year hiatus in 1997, then re-grouped to produce more hits that amassed countless platinum certifications, include: "Beverly Hills", "We Are All on Drugs", "Perfect Situation", and "This Is Such a Pity". They are a global phenomenom that sold 9.2 million albums in the US and over 17 million worldwide.
Formed in 1994 from the dessert city of Las Vegas, Nevada, Panic! at the Disco has had member changes over the years. Currently, the band's line-up is composed of vocalist Brendon Urie, accompanied on tour by bassist Dallon Weekes, guitarist Kenneth Harris, and drummer Dan Pawlovich. Mainly influenced by 60s rock bands like The Beatles, the Beach Boys, and the Zombies, Panic! at the Disco took their sounds apart and rewired it to the electrifying emo, pop punk, electro, vaudeville, and baroque pop sound they have today. Known for their dark and theatrical take on music videos, they bagged the Video of the Year Award at the 2006 MTV Video Music Awards, and The Style Award at the 2008 MTV Asia Awards.