Fiddlers Green Amphitheatre Information
Situated in Greenwood Village, Colorado, Fiddlers Green Amphitheatre has a seating capacity of 18,000, which makes it the largest outdoor amphitheatre in Denver metropolitan area. Out of the 18,000 seats, 7,500 are fixed seats and the rest are in the lawn section and fall under the general admission category. Owned by Museum of Outdoor Arts this theatre is open for shows from September to May every year. The theatre is nestled amongst office buildings in Greenwood Plaza which is near the Denver Technological Center.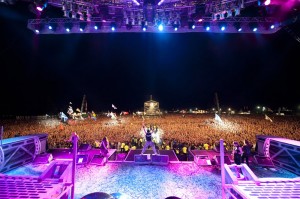 The amphitheatre was opened in 1998 under the name of Fiddler's Green amphitheatre and Dan Fogelberg presented the opening performance. The theatre was then renamed Coors Amphitheatre and it was operating under an exclusive license with House of Blues. It was then sold to its new operator Live Nation. Under the new contract the name of the amphitheatre was again changed to Fiddler's Green Amphitheatre and then to Comfort Dental Amphitheatre. Some popular artists have performed at this theatre such as Maroon 5, John Mayer, Counting Crows, Van Halen and more. Recently being called Comfort Dental Amphitheatre, the venue changed names again to Fiddlers Green Amphitheatre in 2013.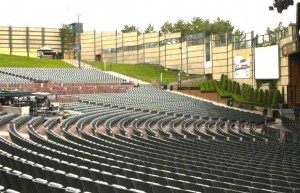 This amphitheatre was actually started off as an earth sculpture and was intended to be a place where people working in the vicinity of the theatre could take a break during lunchtime for lunchtime concert series. However this venue underwent a lot of changes and walls and seats were installed later to make it the amphitheatre that is there today.
At Comfort Dental Amphitheatre other amenities such as restrooms, telephones, concession areas as well as drinking fountains are available and accessible easily. Support, guide as well as hearing dogs are allowed.
For a list of rules and further info ont he venue please see Fiddlers Green Amphitheatre Rules
Fiddler's Green Amp was designed as a large-scale earth sculpture with rolling slopes and a fantastic view of the Rocky Mountains. It is the largest outdoor amphitheater in the Denver metropolitan area and is generally open from May through September every year. It features room for 17,000 guests including fixed seating and a general admission lawn area and is nestled in the Greenwood Plaza near the Denver Technological Center. The venue first opened in 1988 with a performance by Dan Fogelberg on June 11, 1988.
History
Originally, the venue was built to host community festivals and symphonies. It was first commissioned by the Museum of Outdoor Arts in 1982 and was designed by renowned architect George Hargreaves. The venue has earned an award for its design from the AIA.
Since it first opened, the venue has hosted a variety of artistic offerings for the public. It receives over 200,000 annual visitors on average attending everything from commercial concerts, to classical music showcases, and everything in between. It has become a popular setting for musical showcases and similar events and provides a unique experience for fans of music and breathtaking views.
The venue is currently operated by AEG Presents and MOA. AEG Presents is the country's second-largest concert promotion and touring company. They are comprised of special event, broadcast, and exhibition divisions, with fourteen regional offices and operate many state-of-the-art venues including Fidder's Green Amphitheatre.
MOA (Museum Outdoor Arts) produces and integrates inspiring arts and artistic events intended to uplift and enrich the larger global community.
What Is It Like At The Venue
One of the first things you'll hear from past patrons is how well organized the venue is. Everything is arranged in a way that makes sense, which means you can travel from place to place and won't get lost on your way around the venue. Which is great since there's plenty of drink stations and vendors to get your snack on during the show.
Best of all, if you do have problems, the general staff is there to provide a hand. Every member of the staff is reportedly chosen for their skills at customer service. You won't feel anything less than welcomed when you interact with the staff.
Visually, the venue has an exceptional design. If you're in the reserved seating, you'll have a great view of the stage from just about any seat in the house. And if you're on the lawn, then you can enjoy the show with a great view of the nearby mountains to keep you company.
Best of all, the general acoustics, lighting, and vibe is well designed so you can enjoy a great quality music experience even if you arrive late and end up in the rear of the lawn. And that comfortable vibe extends to the regulars who are some of the most positive and fun-loving music fans in the country.