Fiddlers Green Amphitheatre Parking
Situated in Greenwood Village, Colorado, Fiddlers Green Amphitheatre has a seating capacity of 18,000, which makes it the largest outdoor amphitheatre in Denver metropolitan area. Out of the 18,000 seats, 7,500 are fixed seats and the rest are in the lawn section and fall under the general admission category.
Once you arrive, there is plenty of public and private parking in close proximity to the venue. You can call the venue at (303) 220-7000 to ask about purchasing Gold Parking lot passes so you don't have to worry about where to park or bringing cash on your way to the event.
Gold parking pass guarantees a space within Peakview Tower or GWCP Gold parking lots – space is available on a first come, first served basis.
General Parking
Parking provisions are available to patrons and the parking fee is included in the price of the ticket. The parking attendants at the venue will guide you to the Free Parking lots. VIP parking is also available and you can book the same when you book your ticket online. The VIP parking is adjacent to the south side of the venue.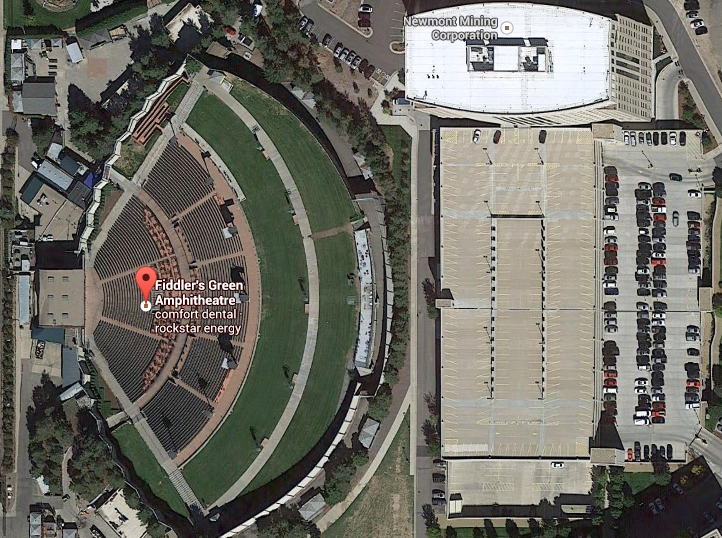 VIP Parking
Directions to VIP Parking:
Take I25 exit at Orchard. Go West to the first light, Greenwood Plaza Boulevard. Turn South (left) and proceed about 1 mile to the Amphitheatre. Follow signs for VIP Parking to the North of the venue.
Fiddler's Green Amp is located at 6350 Greenwood Plaza Blvd, Greenwood Village, CO 80111. Your favorite GPS device or map making app should be able to get you to the venue on time. However, the information below will also get you to the venue in the best way possible.
Accessible Parking
Accessible Parking is located in the parking lot directly in front of the box office. In addition, there are spaces along the north side of Fiddler's Green Circle.
Cascades Cash Parking
The Cascades Cash Parking lot is located at 6300 South Syracuse Way at East Caley Avenue.
Traveling from the North to Access Cascades Cash Parking:
Take I-25 to Orchard Road exit. Go West at exit. Turn left (South) on Greenwood Plaza Boulevard. At the first light take a right (Southwest) onto South Syracuse Way. Proceed down South Syracuse Way. Take a left (East) on East Caley Avenue and the Cascades Cash Parking Lot will be on the right (South).
Traveling from the South to Access Cascades Cash Parking:
Take I-25 to Arapahoe Road exit. Go West at exit. Take a right (North) on South Syracuse Way. Cross East Peakview Avenue and the Cascades Cash Parking Lot will be on the right (East) before Caley Avenue.
Please Note: Cascades Cash Parking Lots open around 4:30 PM on weekdays.