Fiddlers Green Amphitheatre | Englewood, Colorado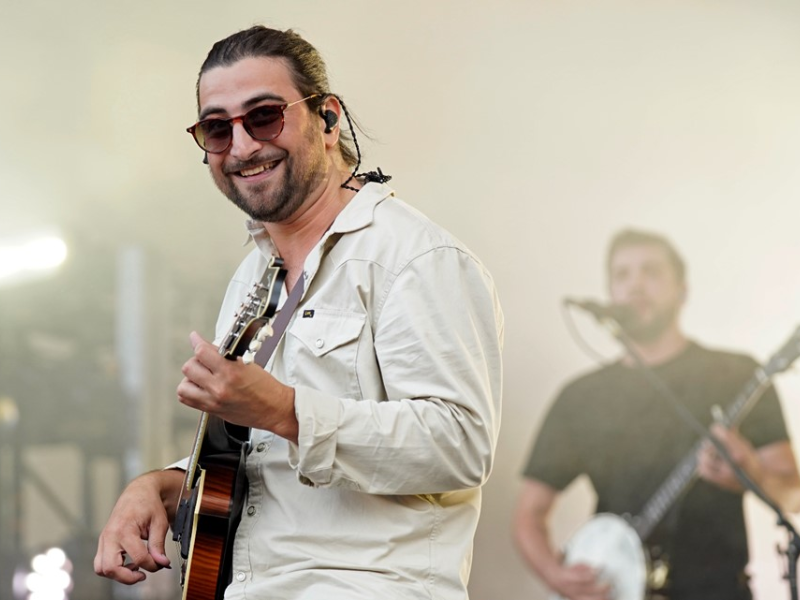 Join us on Tuesday, June 25, and witness Noah Kahan's musical serenity firsthand at the Fiddler Green Amphitheatre! Celebrating the expanded release of "Stick Season," Kahan's "We'll All Be Here Forever" tour promises an enchanting live concert experience with a blend of new and familiar melodies. Our headliner masterfully captures the essence of small-town New England through his folk-pop tunes infused with a smooth Americana vibe. He made his industry debut in 2017 with "Young Blood" and gained widespread recognition with the multi-platinum track "Hurt Somebody." But it was his third album, "Stick Season," that propelled Kahan to stardom, topping Billboard's US Top Rock and Alternative Album charts and bringing instant classics like "Northern Attitude" to stadiums across the country. The national tour is set for 32 shows so far, including this one in Colorado's Fiddlers Green Amphitheatre—a massive 18,000-capacity outdoor stage offering cutting-edge concert utilities and stunning Rocky Mountain views. Click the "Get Tickets" button above to reserve your slots to see Noah Kahan LIVE!
Close your eyes and dip into the sea of Noah Kahan's folk-pop melodies at the Fiddlers Green Amphitheatre! In celebration of the extended-release of his "Stick Season" album, the emerging musician takes off to the North American roads, with 32 pit stops en route. Titled "We'll All Be Here Forever," the tour will feature new and familiar songs that lure crowds into musical zen—an experience you don't want to miss at his June 25 LIVE concert!
"I love listening to his music all times of the year, but there is nothing like listening to a true New Englander sing about the unique experience of living in New England. To me, his songwriting is unmatched, and he writes about the deepest and most sensitive of topics in such a poetic way that all his listeners feel so deeply."
A poet in the truest sense of the word, Noah Kahan paints a picturesque portrait of small-town New England through soothingly vulnerable lyrics. He fuses folk and classical Americana sounds in an exquisite manner that attracts billions of streams across platforms. Kahan first put his foot on the pedal in 2017 with his first single, "Young Blood," followed by the five-time platinum hit "Hurt Somebody." Two years later, the musician would drop his debut album, "Busyhead," which showcased a re-recorded version of "Hurt Somebody" featuring GRAMMY-nominated singer Julia Michaels. However, what truly had Kahan breaking into mainstream music is his fan-favorite third album. "Stick Season" rocketed to the no. 1 spots on the US Top Rock and Alternative Album charts, with a third-place finish in the weekly Billboard 200 ranks. The album's title track, in addition to the chart-busting "Northern Attitude" single, would later establish Kahan's presence in airwaves and concert circuits nationwide.
For a possible glimpse of the upcoming concert, here's the setlist from one of Kahan's recent ones. Check back with us for updates!
Northern Attitude
She Calls Me Back
New Perspective
Everywhere, Everything
Your Needs, My Needs
Growing Sideways
Emily
All My Love
Orange Juice
Dial Drunk
The View Between Villages
Stick Season
Homesick
What better place to relish folk music than in the vast expanse of the great outdoors? Noah Kahan's show here in Greenwood Village, Colorado, will be held at the Fiddlers Green Amphitheatre on Tuesday, June 25. As the largest outdoor venue in metropolitan Denver, it can accommodate 18,000 patrons across its grassy slopes, with a breathtaking view of the Rocky Mountains. Even at the national level, few others can rival this amphitheater's combination of state-of-the-art lighting, acoustics, and stage. Book your tickets now before they sell out!