Fiddlers Green Amphitheatre | Englewood, Colorado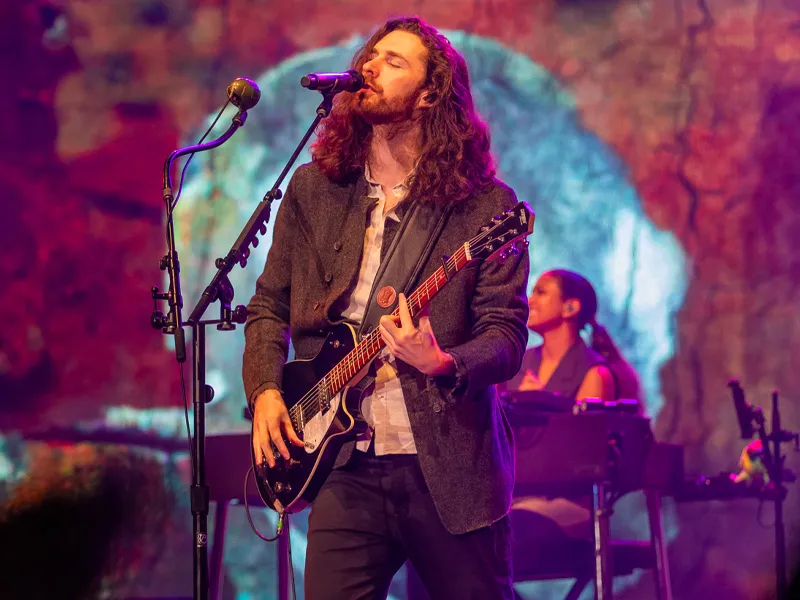 Hozier will "unearth" another show of "unreal" proportions this August 30 as he brings his "Unreal Unearth Tour" to Fiddlers Green Amphitheatre. If you are one of the fans of the "Francesca" hitmaker, then you should click the "Get Tickets" link to reserve the best seats at the venue. The famous Denver, Colorado, outdoor amphitheater is the perfect venue for fans to witness Hozier artfully layer old hits between new tracks from his latest album. You will be taken to church as you sing along to "It Will Come Back," "Arsonist's Lullabye," "Cherry Wine," "Take Me to Church," and many others. Known for his songs' religious imagery and undertones, Hozier will pour out another emotional performance through his distinct voice, thought-provoking lyrics, and incredible guitar-slinging skills. Surrounded by nature, Fiddlers Green makes for an enchanting evening that is fitting for a captivating performer. Unearth the best concert ticket deals today. Click the link to reserve yours before they run out.
Hozier stunned in 2013 with his song "Take Me To Church" with its lyrics about the humanness of sexuality and at the same time critiquing church teachings. He did not see this song to be a hit since it did not sound like the pop songs up in the charts during that time. However, true talent does get noticed, and the song was at the top of that year's best songs worldwide. After this achievement, the indie folk singer has continued to release records that are packed with powerful lyrics. It is to be expected that in every release, inside the tunes are concealed layers of meaning up to a listener's interpretation. This lyrical attribute is complimented by his themes that do not shy away from sensitive topics to double down on philosophical wisdom. These lyrics are propelled by his baritone voice and folksy and gospel-oriented music that demands attention when heard.
Hozier produced three albums since his initial success. His debut is a self-titled album that came out in 2014. "Take Me To Church" warmed up the tracklist that consists of compelling songs, which are "From Eden" and "Work Song." Four years later, the folk mixed with R&B and soul album "Wasteland, Baby!" hit the racks. "Nina Cried Power" led the track. This piece is a collaboration with activist and musician Mavis Staples. A protest song, its lyrics celebrate the power of coming together to exact change. "Would That I," "Movement," "Almost (Sweet Music)" and "Sunlights" were standouts from the record. His most recent release is "Unreal Unearth," Hozier's ode to the pandemic experience. His current most popular in this album is "Eat Your Young."
In support of the recent album, the "Take Me To Church" singer is on his "Unreal Unearth" tour, which was extended to 2024. The second leg of this tour will reach 37 venues in North America. The trek will start in April up until September, encompassing spring and summer. Allison Russel will accompany him on this tour. Russel dominates the Canadian pop scene as a result of catchy songs like "Nightflyer," "Persephone," and "The Returner."
The Fiddlers Green Amphitheatre is among the last stops in this amazing tour on August 30. Tickets are now on sale for this concert!