Fiddlers Green Amphitheatre | Greenwood Village, Colorado
A Swedish rock metal invasion will come to the Fiddlers Green Amphitheater this Tuesday, August 8, as two of Sweden's most prominent bands team up to give all rock lovers one hell of a concert experience. Get ready for Ghost and Amon Amarth's live performances on a night filled with heavy rock music that will keep you hyped all night. Flash your rock and roll hand signs in the air as Ghost delivers a powerful performance of their all-time hits, including "Cirice," "Dance Macabre," and "Monstrance Clock." Release the Viking in you and Raise Your Horns for Amon Amarth's energy-pumping anthems like "Twilight Of The Thunder God," "Valhall Awaits Me," and many others. You've never seen a summer concert like this, so be sure to reserve your tickets as early as today. Click the "Get Tickets" link now!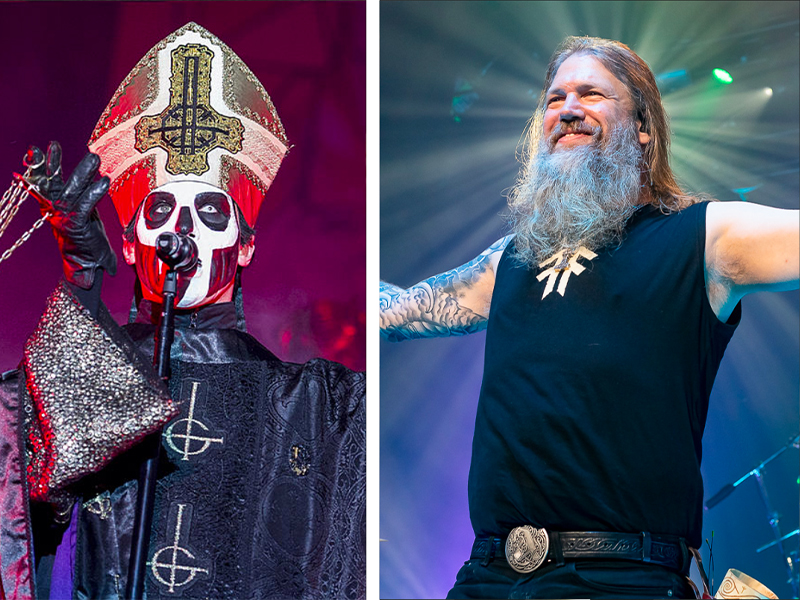 Dubbed by Kerrang Magazine as "the breakout band in heavy music over the past decade," Ghost is a Swedish rock band that has been trailblazing the music scene since the early 2010s. Fronted by the eccentric Tobias Forge (aka Papa Emeritus I-IV or Cardinal Copia), the Grammy-award-winning band is known for their blend of deceptively digestible sound, esoteric mindset, and anti-ecumenical visuals that sometimes raise eyebrows from people who are not familiar with their artistry. It can be noted that the lead singer is glammed up as a "demonic anti-pope" who has undergone five incarnations: I, II, III, Nihil, and IV. Seven of the members are also dressed in cloaks and wear similar makeup, which ultimately adds to the overall mystery and aesthetics of the group.
Despite the striking and controversial aesthetics, the band's sound is undeniably great. Their debut album, "Opus Eponymous," was a massive success. In 2016, the band won a Grammy for their hit song "Cirice" as Best Metal Performance. Not to mention the countless awards they have won from several award-giving bodies, including the 2022 Favourite Rock Album in the 2022 American Music Awards, six Bandit Rock Awards, and three wins out of 18 nominations from the Loudwire Music Awards. Indeed the band is on top of their game.
This summer, the band embarks on a 27-date tour in the United States. Kicking off at Concord, California, on August 2, the trek will stop at Fiddler's Green Amphitheatre on August 8, 2023. Joining the band is another Swedish powerhouse band Amon Amarth. The band is famous for their "Viking Metal" sound, which is a reference to their songs' themes that focus on Vikings, Norse mythology, and their origins. The band has released 12 albums since their early start in the late 1990s. The latest of which is "The Great Heathen Army," released in 2022.
Watch Amon Amarth set the stage ablaze with their career-defining hit songs before Ghost takes center stage. Grab your tickets as early as today by hitting the "Get Tickets" link. See you at Fiddler's Green Amphitheatre.