Fiddlers Green Amphitheatre | Englewood, Colorado
Missed getting concert tickets for Odesza's first night at Fiddler's Green? Worry no more as the Grammy-nominated duo of Harrison Mills (aka Catacombkid) and Clayton Knight (aka BeachesBeaches) returns to Colorado's famed venue for the second night of their The Last Goodbye Tour's stop in Colorado this September 17, Saturday. The all-ages concert will also feature special guests Sylvan Esso, Elderbrook, and NASAYA. This is expected to be one of the most epic performances for the duo, who hasn't been on the road since 2019. Whether you've missed their first night or you want to simply experience the intensity of their electronic music all over again, this concert is for you. Click on the "Get Tickets" button to secure tickets now!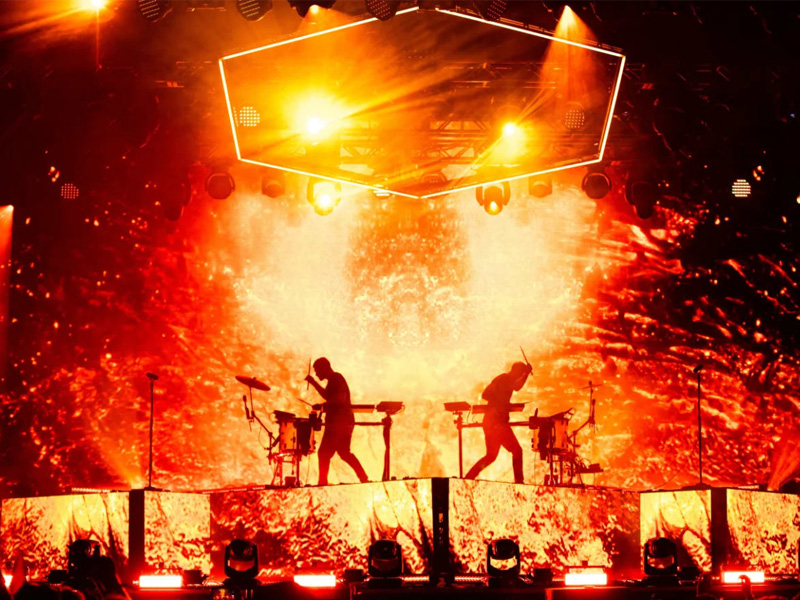 As the largest outdoor amphitheater in the Denver metro area, Fiddler's Green Amphitheater is the perfect venue for Odesza's Colorado two-date stop for their "The Last Goodbye Tour." After their successful tour in 2019, the tour is their first appearance. So the fans can expect them to pull out all the stops in terms of their live production.
The duo, who released their successful debut album a decade ago, is dubbed by many as "the pioneer of live stage electronic music." They are renowned for their legendary live shows, which showcase their simple yet impactful performances. The well-crafted LED imagery and incredible stage production add to the concert experience that made this duo the most sought-after act in the field of EDM.
Just this year, the Grammy-nominated duo released their latest single, "The Last Goodbye," as part of their 4th studio album, which will be dropped later this July. They also announced their return to the road, much to their loyal fans' delight.
"We can't wait to share this full-length project with you, along with our new show," said Odesza. "It's been a long time coming. From us to you, The Last Goodbye: The Tour."
The duo will be joined by some of the industry's promising acts in their Fiddler's Green show. The American electronic pop duo Sylvan Esso, the musician Elderbrook, and the electronica newcomer NASAYA will join the lineup.
Hailing from North Carolina, Sylvan Esso is known for their famous songs "Coffee," "Die Young," and "Funeral Singers," among many others. Elderbrook, on the other hand, became famous when he broke out into the music scene in 2015 after releasing his first EP, which contained his breakout song "How Many Times." Moreover, NASAYA is an indie electronica artist who describes himself as an artist who "melts futuristic sounds and textures with retro, moody atmospheres."
With the addition of these three acts in Odesza's Fiddler's Green lineup, the duo's concert is definitely one for the books. Catch them all this Saturday, September 17, 2022, by securing your tickets as early as now!