Fiddlers Green Amphitheatre | Englewood, Colorado
If you've been feeling some 'Malibu nights these days, fret no more as LANY kickstarts the summer at the Summer Forever Tour. Paul Klein and Jake Goss are set to hit the stage at Fiddlers Green Amphitheatre on Sunday, 18th of September 2022. So, get ready to call your friends and scream 'ILYSB to the boys who blessed our ears with both bright heartfelt tracks and laid-back heartache tunes like "Super Far", "You!", "13", and "Malibu Nights". After their two-album run during the pandemic with "Mama's Boy" and "gg bb xx", LANY is set to rock their fans' hearts live on stage. Don't miss out on LANY by booking your tickets now!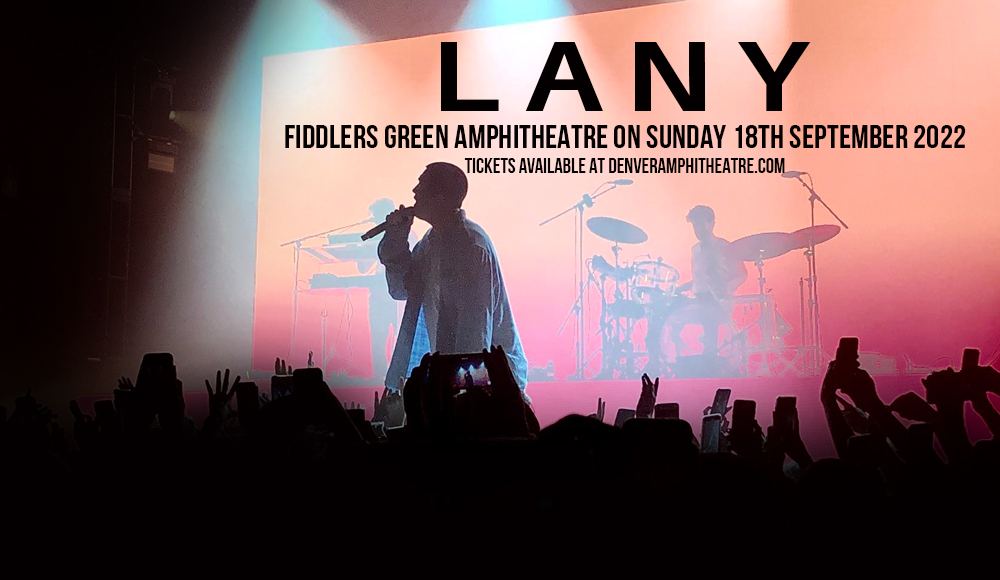 LANY, the band that supposedly stands for the distance between L.A. to New York, soon took over the world as fans started screaming the words to "ILYSB" back to Paul Klein, Jake Goss, and now former-member Les Priest. What started out as a mystery who anonymously posted two songs, "Hot Lights" and "Walk Away" to SoundCloud, and labels started expressing interest, LANY has become a staple favorite in indie-pop soundwaves globally.
"We knew we wanted a four-letter word because of design and aesthetic purposes, but as you can imagine, all the four-letter words in the entire world are taken… I eventually thought of the span across the country from L.A. to New York, and at first I was thinking it would be L-A-N-Y, but people kept getting confused on how to pronounce it when I told them, saying things like 'L-A-and-Y?' So then we're like forget it—let's call ourselves LANY, pronounced Lay-Nee." Paul Klein said.
From an anonymous group having people guess who this band they started to love so bad with "ILYSB" amassing online interest, LANY dropped "Made in Hollywood" and "Bad, Bad, Bad" before their big identity reveal.
The band toured with various artists including Troye Sivan, John Mayer, Twin Shadow, and Halsey. They dropped their self-titled debut album on June 2017, featuring fan-favorite singles "Good Girls" and "13".
From then on, LANY continued seeing 'hot lights as they started taking the world by storm touring other continents and dropping gushing lyrical masterpieces that speak to listeners' hearts like "Super Far", "Malibu Nights", "Mean It" with Lauv, "Okay" with Julia Michaels, and "Thru These Tears".
In 2018, they performed their very first arena show in the Philippines, selling out tickets in just 24 hours. A year later, they touched down on three sold-out shows in Manila.
After 2018's highly-anticipated "Malibu Nights" that gave the whole world some tears and feels with singles "Malibu Nights", ""Thick and Thin", "I Don't Wanna Love You Anymore", and "If You See Her", LANY served fans a glimpse of hope amidst the pandemic through their third album "Mama's Boy".
A year later, the boys dropped their fourth record "gg bb xx", a testament to LANY's growth from their bedroom pop beginnings. Its singles include "Roll Over Baby", "Dancing in the Kitchen", and "I Quit Drinking" with Kelsea Ballerini.
Recently, the band announced the departure of keyboardist Les Priest "to focus on life as a writer/producer in Nashville". Now carrying on as a duo, LANY remains the same loveable and heart-fluttering band that kept listeners company over the past years.
Touted as "primed to reshape pop music's zeitgeist" according to Bandwagon Asia, LANY is set to bring in bigger soundwaves, tears, love, and joy to listeners across the globe. So, hop in and join the crowd at the Summer Forever Tour led by the one and only LANY. Book your tickets now!