Fiddlers Green Amphitheatre | Englewood, Colorado
All right stop, collaborate and listen… to that all too familiar and catchy baseline that got us all hooked! The original iceman is back to get the party started this 2022. Rap star Vanilla Ice will be the banner artist for this year's "I Love the '90s Tour", happening at the Fiddlers Green Amphitheatre on Saturday 25th June 2022. Once again, Vanilla Ice will go to the extreme as he serves out certified cool as ice smash hits like "Ninja Rap," "Play That Funky Music," and, of course, "Ice Ice Baby." As you ready your concert OOTDs — the crop tops, overalls, flannel shirts… we've got you covered for tickets. Click on that 'Get Tickets' link on this for a quick and easy way to book your tickets now!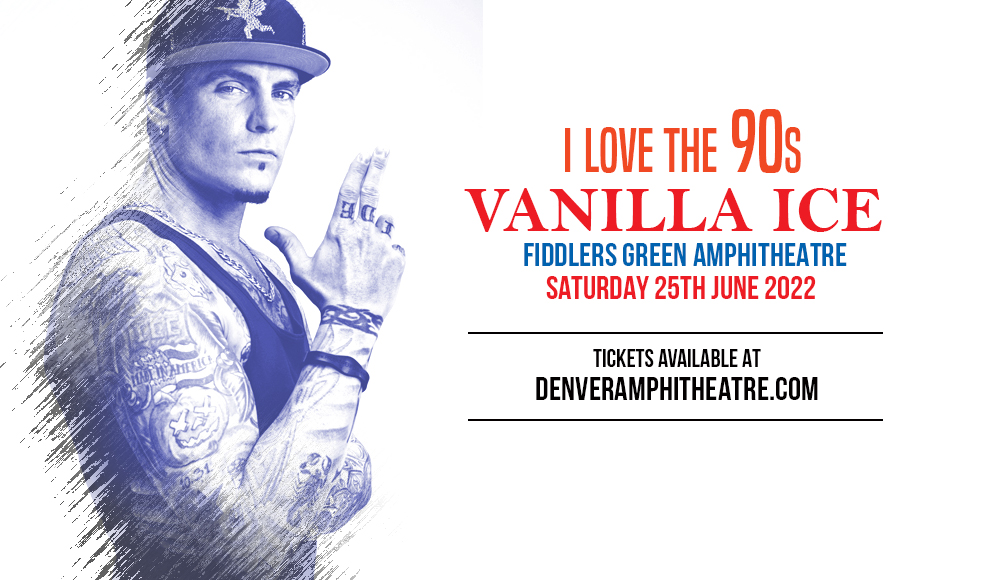 Robert Matthew Van Winkle a.k.a Vanilla Ice is recognized as the prime mover in diversifying hip hop by introducing it to a mainstream white audience. In 1990, Vanilla Ice released his re-worked debut album "To the Extreme" which became the fastest-selling hip hop album of all time and contained Ice's best-known hits: "Ice Ice Baby" and a cover of "Play That Funky Music". "Ice Ice Baby" was the first hip-hop single to top the Billboard charts.
"Ice Ice Baby" was such a huge explosive hit that brought Van Winkle fame and success at supersonic speeds all over the world. He branched out into the film industry, making an appearance in the film Teenage Mutant Ninja Turtles II: The Secret of the Ooze, and also cast the lead role in the movie Cool as Ice in April 1991.
"Ice Ice Baby" may have had a resurgence of interest in social media platforms like Tiktok, but nothing beats hip-hoppin' and groovin' to the fun-filled sounds of the 90s. "Ice is back, and so is the I Love the '90s Tour," Vanilla Ice says in a statement. "We're gonna be hitting your town live and in person this summer, so you better get in where you fit in and get back to the '90s where the party never stopped!"
90s kids and all generations of party people are welcome and have a blast at the "I Love the '90s Tour," so book your tickets now!