Fiddlers Green Amphitheatre | Greenwood Village, Colorado
Get ready to rock it all out as Fall Out Boy makes its big return on a brand new tour. The So Much for (Tour) Dust trek will take place in support of their forthcoming album "So Much (for) Stardust" Get ready for stardust at Fiddlers Green Amphitheatre on Sunday, 9th of July 2023, as Fall Out Boy shares the stage with special guests Bring Me The Horizon, Royal and The Serpent & Daisy Grenade. Catch the rockers perform their biggest hits and new music live on tour. As their 'songs know what you did in the dark, make sure to save your seats by booking your tickets now!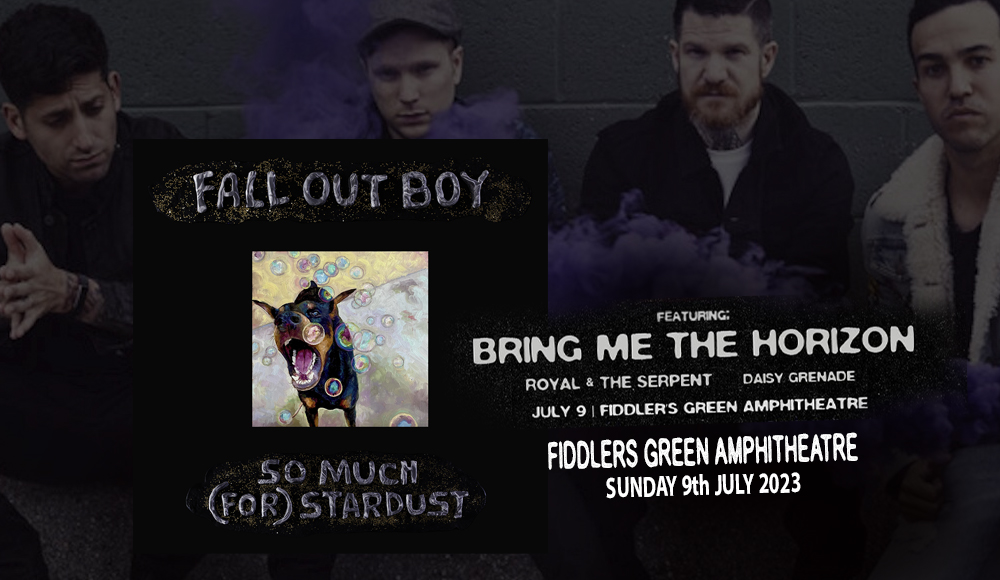 Fall Out Boy's new album, "So Much (for) Stardust", is scheduled for its big release this coming March 24th. The new record will feature their new singles "Love From the Other Side" and "Heartbreak Feels So Good". In support of their upcoming album, Fall Out Boy just announced a brand new tour with a lineup of special guests who will be joining the band at certain show stops. The tour's stop at Fiddlers Green Amphitheatre will have Bring Me The Horizon, Royal and The Serpent, and Daisy Grenade as their opening acts.
Two singles in, fans have been itching to get their hands on the band's new record. So Much (for) Stardust follows the band's 2018 #1 album "Mania" which featured its hit single "The Last of the Real Ones".
"We wanted to make a record that was really lovingly crafted and deliberate and patiently guided," lead vocalist Patrick Stump shared in a statement. "Like someone cooked you a delicate meal. I'm not a very proud guy, but I'm pretty proud of this record."
Rockin' the stage for over twenty years, Fall Out Boy soared great heights since their 2005 breakout hit "Sugar, We're Goin Down". Having amassed a dedicated fanbase for their pop-punk and pop-rock treats, the band produced a slew of hit singles through the next decade including "Dance, Dance", "This Ain't a Scene, It's an Arms Race", "Thnks fr th Mmrs", "My Songs Know What You Did in the Dark (Light Em Up)", "Centuries", and "The Last of the Real Ones".
2018's "Mania" marked the band's fourth #1 and sixth consecutive top-10 record. In the same year, Fall Out Boy received their second Grammy Award nomination for Best Rock Album.
With So Much (for) Stardust coming out real soon, big surprises await fans as Fall Out Boy enters a new decade of rock surprises. Don't miss out on So Much for (Tour) Dust by booking your tickets now!