Fiddlers Green Amphitheatre | Englewood, Colorado
As they were just wrapping up their 2021 "Great Destroyer Tour", progressive rock metal band Coheed and Cambria got their fans pumped up again as they dropped word that they will be hitting the road anew this 2022 for a tour dubbed as "A Window Of The Waking Mind Tour", which is geared to support the release of their latest album "Vaxis II: A Window Of The Waking Mind." So time to wake up sleepy heads! Coheed and Cambria will give you that much-needed jolt to your senses as they hit the live concert stage at the Fiddlers Green Amphitheatre on Tuesday 9th August 2022. Special guests performers include Dance Gavin Dance and Mothica. Round up your crew and save your space for jamming and slamming. Click that 'Get Tickets' link and book your tickets now!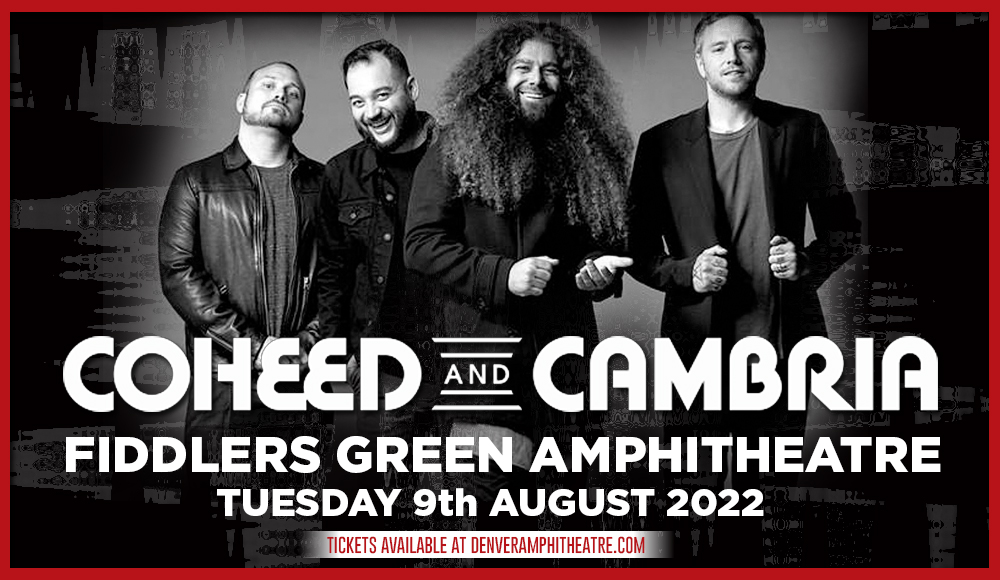 Formed in 1995 in Nyack, New York, band members Claudio Sanchez (vocals, guitars, keyboards), Travis Stever (guitars, vocals), Josh Eppard (drums, keyboards, backing vocals), and Zach Cooper (bass, backing vocals), now comprise the progressive rock band Coheed and Cambria.
One of its core founders, Claudio Sanchez often said in interviews that he is envious of his father's era of music, which spawned the likes of prog metal bands such as Led Zeppelin, Pink Floyd, The Police, Queen, and Thin Lizzy; and one of their outstanding influences was Faith No More. Coheed and Cambria concocted their own brand of rock — a hybrid of progressive rock, pop, heavy metal, and post-hardcore.
A review from Sputnikmusic, says "Coheed and Cambria manage to bring new life to a dying genre, and mix up the standard pop-punk scheme with creative and original riffs."
Coheed and Cambria's first studio release, The Second Stage Turbine Blade, came in 2002. But it was their 2003 album entitled In Keeping Secrets of Silent Earth: 3, that placed them on a larger musical map as it was certified gold, and their first album to appear on the Billboard charts. So far, Coheed and Cambria has four of their albums have reaching the Billboard Top 10; and they're up to release their 10th studio album this 2022- ", Vaxis – Act II: A Window of the Waking Mind".
"A Window Of The Waking Mind Tour" is massive and will hit key cities and states. Set your alarms and lock this date as Coheed and Cambria hits the Fiddlers Green Amphitheatre on Tuesday 9th August 2022. Don't miss it!