Fiddlers Green Amphitheatre | Englewood, Colorado
Van Halen's front man – Sammy Hagar And the force of The Circle are coming to blow the house down at Fiddlers Green Amphitheatre on Tuesday 12th September 2017! Come and experience a show like you have never seen before as some of the biggest stars and musicians take to the stage… Here's your chance to catch hits from a classic Rock catalogue of music. Whether you are a dedicated fan to Led Zepp, Van Halen or Sammy Hagar, himself – this is a show for you!!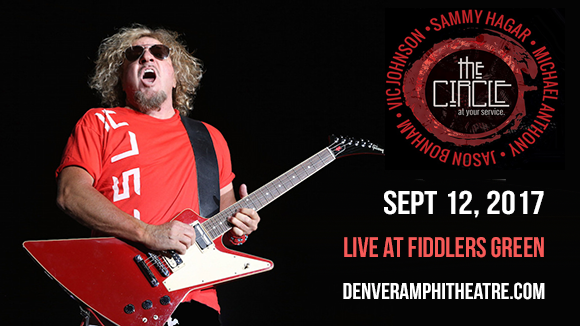 Known as the Red Rocker, Sammy Hagar has made a triumph across the music scene with his legendary career, he has formed fans all around the world and sustained himself at the top of his game for many years! His sound is so prominent in the history of music, since his debut back in the 1970's, throughout to the 1980's with his hit song "I Can't Drive 55". And since his takeover from the original vocalist of Van Halen, he has shot up in the charts and truly made his mark… becoming much loved for his work within the band and on solo projects.
Now, he returns to the stages across North America with his band, The Circle – a powerful supergroup including members from Led Zeppelin, Van Halen… that's 40 years of Rock under their belts!! There's no doubt in mind that this talented group will leave you absolutely blown away and desperate for more!