Fiddlers Green Amphitheatre | Greenwood Village, Colorado
We have some of the most exciting news for fans of rock! Not only are Queens of the Stone Age releasing a brand new album, "In Times New Roman," they've also announced a wicked new tour to accompany it, which will see these incredible artists travel the nation from the summer moving into the fall. Fans can't contain themselves, going into a frenzy on social media and announcing that they're all prepped and ready for what will be one of the best tours of the year. This part of the trek will see QOTSA perform at the legendary Fiddlers Green Amphitheatre on Friday, September 29, 2023. Tickets to the show are already in short supply, and with talent this hot, you can expect them to sell out in record time. You can of course grab yours right here and now, but you must act quickly, so click the "GET TICKETS" button before it is too late and you miss out.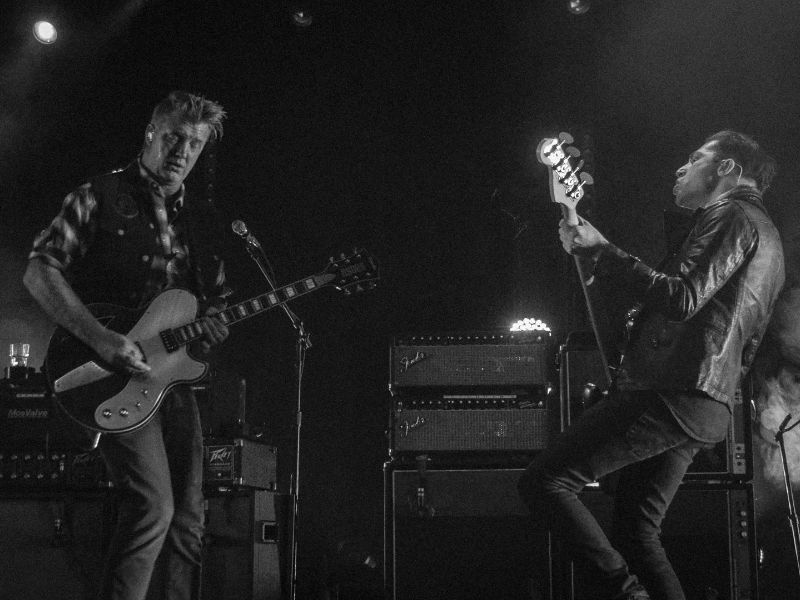 QOTSA have been around for a long time now and have become well known as one of the most renowned acts in rock music today, to the point where fans can be found traveling many hours just to catch a show. So when they announced a brand new tour, fans became super excited.
They actually got their start in 1996, when vocalist Josh Hommes decided to start a new band after his old one, Kyuss, broke up. Using the name Queens of the Stone Age, he created one of rock's most memorable outfits. Their first album dropped in 1998 and was self titled. It received very good media coverage, with big names such as NME and Rolling Stone all giving it high praise.
They followed the first album with "Rated R" in 2000, another fantastic piece of work that also gained even more media attention, giving the boys the platform they needed to level up. They started opening for huge acts like The Smashing Pumpkins and The Foo Fighters.
Later projects included a further five albums: "Songs for the Deaf" (2002), "Lullabies to Paralyze" (2005), "Era Vulgaris" (2007), "…Like Clockwork" (2013), and "Villains" (2017). Each album brought a brand new tour and sold out shows. Critical reception was high, and the "Queens" found themselves winning awards and nominations from several respected media outlets, like Kerrang, who gave them the award for "Best International Newcomer," and NME with "Best Live Band," plus three Grammy award nominations.
All told, they have sold well over an estimated 3 million copies of their works worldwide, and it's safe to say that QOTSA are some of the best to ever do it, so when they recently announced that they are back at it again with a brand new album and a tour to help promote the album, fans went into overdrive with excitement. The trek promises to feature the band's signature style and electrifying performances so there is a lot to look forward to. All the real fans are going to be there and so should you. Grabbing your tickets early is a must so don't delay.