Fiddlers Green Amphitheatre | Englewood, Colorado
Get ready for one of the biggest popular rock shows of the year!! OneRepublic are on tour with their most recent album, "My Oh My," together with brand new singles from upcoming releases. The band behind "Apologize," are coming to Fiddlers Green Amphitheatre on Friday 8th September 2017 for a show you'll never forget!! Tickets available now, but they're going to go fast – be quick about getting yours!!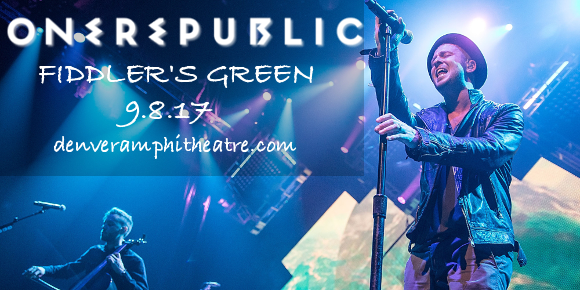 Formed in 2002 by singer Ryan Tedder and guitarist Zach Filkins in Colorado Springs, the current lineup also includes guitarist Drew Brown, bassist Brent Kutzle, who also plays cello, and drummer Eddie Fisher. The band rose to fame via MySpace, where they achieved success as an unsigned group before gaining the interest of a number of record labels. Initially signing with Velvet Hammer, but never releasing an album with them, "Apologize," was released on MySpace and became a number one on the MySpace charts, but it wasn't till 2007, when the song was remixed by Timbaland and released on the band's debut album, "Dreaming Out Loud," that it became a worldwide smash hit. "Apologize," topped the charts in 16 countries, caused the band to be nominated for a Grammy Award, and subsequently was awarded Platinum certification by the RIAA.
From there, the band went on to release one top charting album and hit single after another. They will on this tour be promoting their fourth and most recent album, "My Oh My," along with brand-new, never-before heard material!! Be there – get your tickets TODAY!!