Fiddlers Green Amphitheatre | Englewood, Colorado
Cinco de Mayo's just a few months away, and the celebration doesn't stop there. Get ready to get your groove on at Jammin' de Mayo, featuring Sir Mix-A-Lot, Stevie B. & Jody Watley at Fiddlers Green Amphitheatre on Saturday, 7th of May 2022. You're surely into Jam, vibe, and dance the night away to classic hits such as Sir Mix-A-Lot's "Baby Got Back", Stevie B's "Because I Love You (The Postman Song)", and Jody Watley's "Looking for a New Love". It's a night of classic hits and great live music to sing your hearts out and get your groove on! Book your tickets now!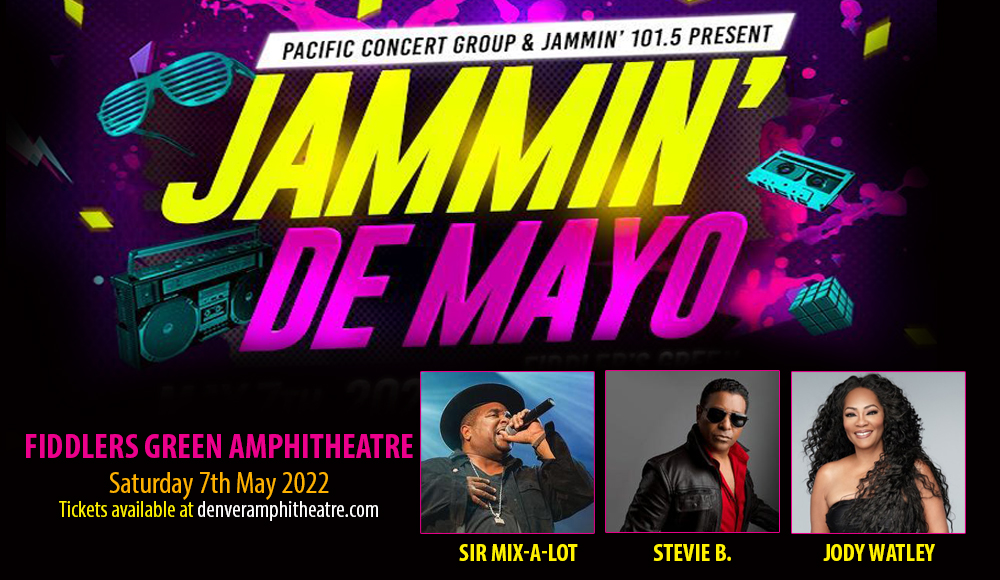 Anthony Ray, the Grammy award-winning rapper, songwriter, and record producer better known as Sir Mix-A-Lot, has his roots in Seattle with his first hit "Square Dance Rap", followed by "Posse on Broadway". His 1988 debut album "Swass" is certified platinum. By 1992, he dropped the hit certified-platinum single "Baby Got Back" from his third studio record "Mack Daddy". The rapper won a Grammy for Best Rap Solo Performance with "Baby Got Back". In 2003, he made a comeback releasing a new album entitled "Daddy's Home".
Give it up for Stevie B, the iconic singer, songwriter, and producer, who made waves in the freestyle and high-energy electro-dance scene in the late 80s. Get on the groove with these early club hits "Party Your Body", "I Wanna Be The One", "In My Eyes" and "Love Me For Life". By 1990, he dropped the single "Because I Love You (The Postman Song)" from his album "Love & Emotion" that marked his success with 4 weeks at #1 on the Billboard Hot 100.
Jody Watley, a Grammy award-winning singer, songwriter, record producer, and artist with a Lifetime Achievement Award from Billboard, and the First Ambassador of the National Museum of African Music is acclaimed for her pop, R&B, dance, jazz, and electronic soul influences and hits. Her hit singles include "Looking for a New Love", "Real Love", "Friends", "I'm the One You Need", her feature in Babyface's "This Is for the Love In You", and much more fan-favorite hits.
So, get your groove on and get ready to celebrate, dance, and jam at Jammin' De Mayo! Get ready to sing your heart out and show your best moves. Let Sir Mix-A-Lot, Stevie B, and Jody Watley take you on an unforgettable night of great hits. Book your tickets now!