Fiddlers Green Amphitheatre | Greenwood Village, Colorado
When a music legend retires, he does not just quietly fade away from his fans. In the case of eight-time Grammy Award-winning blues guitarist Buddy Guy, he sets out on a massive summer tour to deliver one last run for blues rock fanatics! The acclaimed virtuoso is known for influencing the greats of the genre, such as Eric Clapton, Jimmy Page, John Mayer, and Jimi Hendrix, he is turning 86 this summer, but that doesn't mean he's slowing down! This season, he's set to deliver his last hurrah through the Damn Right Farewell Tour. The outing comprises over 40 dates across North America, and it's coming to Greenwood Village, Colorado! On Saturday, 29th July 2023, Buddy Guy and his special guest Kenny Wayne Shepherd will light up the Fiddlers Green Amphitheatre with their biggest hits! The show is guaranteed to deliver incredible songs, including "Feels Like Rain," "Damn Right I've Got the Blues," "Mustang Sally," "Stone Crazy," and many more! If you want to catch the legendary Buddy Guy one last time, you better score tickets now!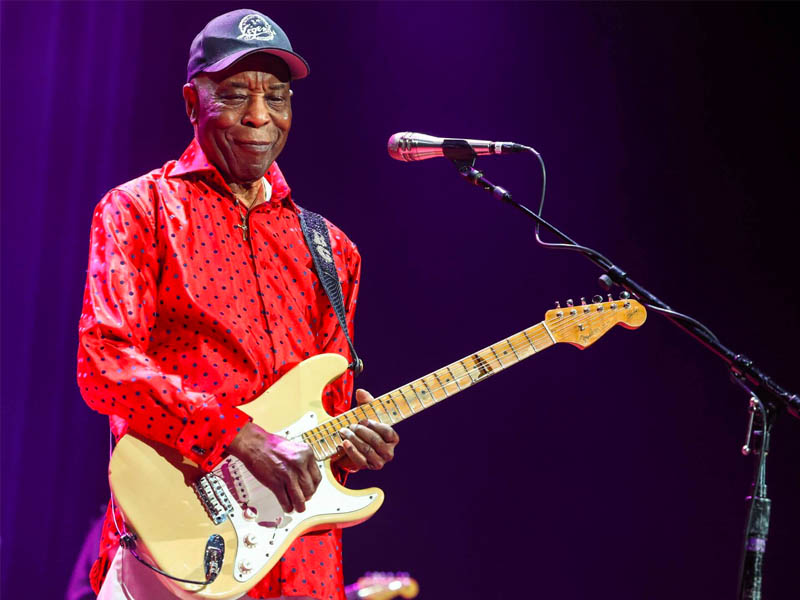 The sensational blues guitarist Buddy Guy kicked off his farewell tour in February 2023. The celebrated bluesman is guaranteed to deliver career-spanning hits, including music from his latest album, The Blues Don't Lie. Since the '50s, Guy has been a force in the Chicago blues movement. His work has greatly influenced the next generation of famed musicians, which includes award-winning artists like Eric Clapton, Keith Richards, Jeff Beck, Gary Clark Jr., and more. In fact, Clapton once referred to Guy as "the best guitar player alive." As if the statement was not official enough, Guy was included in Rolling Stone's 100 Greatest Guitarists of All Time. Guy's achievements include eight Grammy Awards plus a Grammy Lifetime Achievement Award. In 2005, he was inducted into the Rock and Roll Hall of Fame by B.B. King and Eric Clapton.
Guy joined several other Hall of Fames in the following years, including the Louisiana Music Hall of Fame and Musicians Hall of Fame and Museum. In 2018, the famed Mississippi Blues Trail in Louisiana added a marker honoring Guy and his work. The following year, the American Academy of Achievement presented him with the Golden Plate Award. Guy has attained all these accomplishments thanks to his exemplary music.
Beginning in the late '50s, Guy has released a number of non-album singles, including his debut hits, "Sit and Cry (The Blues) and "Try to Quit You Baby." The following year, he collaborated with Ike Turner and released "You Sure Can't Do" and "This is the End." by 1967. Guy released his debut album, Left My Blues, in San Francisco. He spent almost a decade recording the tracks for this record, and became a valuable time capsule of older blues tracks and other originals.
After his stellar debut, Guy regularly released new studio albums every few years. By the 90s, Guy skyrocketed to fame and began getting the recognition he deserved. In 1992, Guy received his first Grammy Award for Best Contemporary Blues Album for his work with Damn Right I've Got the Blues. He would later win seven more Grammy Awards throughout the '90s and 2000s. In 2016, he won his latest Grammy for his album Born to Play Guitar.
Catch Buddy Guy and Kenny Wayne Shepherd this summer by scoring tickets to his show at the Fiddlers Green Amphitheatre!